Dear wine lovers,
Participating in the Aglianico tasting was a true pleasure for me. Thank you Vincollegiet for the opportunity to give this grape a well-deserved attention!
Wine is a family matter to me, but not a business. My grandfather, Alfredo, was a wine and olive oil dealer, after the 2nd world war. Later he opened a small haberdashery in my hometown, but shared his passion for good wines with his sons and daughter, my mother. All the grandchildren including me received a spoon of wine (with or without water) during family meals. It was a way of creating connection between food and family, exercising our palates.
On Saturdays sometimes he was driving us to visit winemakers and choose wines. Perfumes, colors, consistency of the soil… the whole experience will be forever engraved in my memory.
He taught us what kind of wines (and how much you should pay!) are good enough for weekdays, Sundays and special celebrations. Growing up, we didn't agree on our favorite grapes. Sometimes we discussed about food and I was driving him to the countryside whenever possible.
Unfortunately I never had the chance to show how people can live better in a well lit environment. Being a "lighting designer" maybe sounded like "being an artist" to him, nevertheless he always supported me.
Above all he taught me the most important thing in life: sharing. Sharing stories, food and wine with friends make them even better, don't you agree?
Today I'm happy to share my presentation, you can download it at the following link:
https://www.dropbox.com/s/0u126h2ozhwk135/Aglianico.pptx?dl=0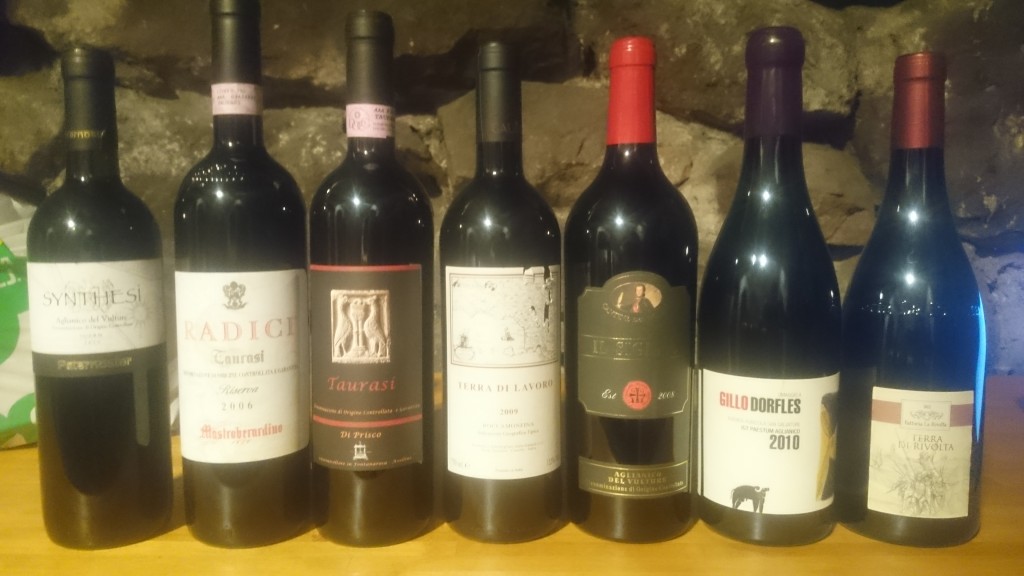 Wine list can be found here:
https://www.dropbox.com/s/pey63jz8f80poqr/aglianico-vinlista.pdf?dl=0
Vote from the tasting:
| | | | | | | | |
| --- | --- | --- | --- | --- | --- | --- | --- |
| | 1 | 2 | 3 | 4 | 5 | 6 | 7 |
| Best: | - | - | - | 2 | 5 | 2 | 1 |
| Worst: | 3 | 3 | 2 | 2 | - | - | - |
Winner with clear margin was number 5, Il Sigillo 2008 by Cantine del Notaio.
Feel free to write me if you like to talk about Italy or lighting design
chiara.carucci@afconsult.com
May the soul of Southern Italy warm your heart!
Best regards,
Chiara