På senare tid har en helt ny generation vinmakare etablerat sig i Sydafrika, och tidigare etablerade vingårdar har tagits över av en generation producenter med ny inriktning.
Det som utmärker dessa producenter är att de framhåller:
Så lite påverkan på vinet som möjligt, om möjligt inga tillsatser
Minimalt med ny ek, helst ingen alls
Ledorden är återhållsamt och elegant
Provningen baserades delvis på gruppen The Zoo Biscuits och föregångarna The Swartland Revolution, delvis på producenter som lyfts fram av bl.a. Tim James (redaktör på Platter).
Ett citat från en av producenterna i The Zoo Biscuits sammanfattar deras attityd:
"We're not a formal organization, we don't have official titles and the closest thing we've got to a board meeting is going surfing together," says Duncan Savage (Savage Wines). "And as soon as someone tells us we have to elect a treasurer, we're out."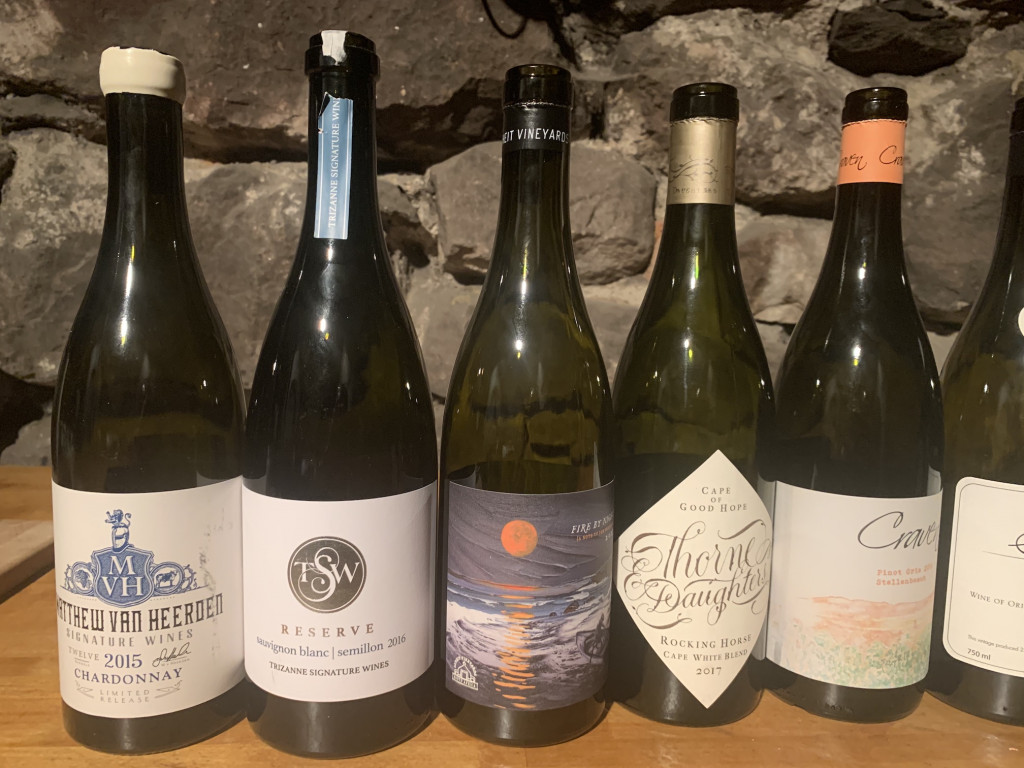 Röstningen vitt:
| | | | | | |
| --- | --- | --- | --- | --- | --- |
| | 1 | 2 | 3 | 4 | 5 |
| Bäst: | 5 | 0 | 4 | 6 | 1 |
| Sämst: | 2 | 2 | 2 | 0 | 10 |
Röstningen rött:
| | | | | | |
| --- | --- | --- | --- | --- | --- |
| | 1 | 2 | 3 | 4 | 5 |
| Bäst: | 2 | 2 | 5 | 6 | 1 |
| Sämst: | 4 | 4 | 1 | 4 | 3 |
VITT
Matthew van Heerden Signature Wines Chardonnay 2015, Matthew van Heerden, Stellenbosch (Nr 79352, Handpicked Wines, BS). 395 kr
Trizanne Signature Wines Sauvignon Blanc Semillon Reserve 2016, Western Cape (Nr 96156, Winepartners Nordic AB, BS). 199 kr
Alheit Fire by Night 2017, Alheit Vineyards, Paardeberg, Western Cape (Nr 72271, Nigab, FS). 389 kr
Rocking Horse Cape White Blend 2017, Thorne & Daughters, Western Cape (Nr 92358, Johan Lidby, TS). 229 kr
Pinot Gris 2017, Craven Wines, Stellenbosch, Western Cape (Nr 70410, Handpicked Wines, BS). 199 kr
Bästa vitt: Rocking Horse Cape White Blend 2017
Sämsta vitt: Pinot Gris 2017
RÖTT
Storm Ignis Pinot Noir 2015, Hemel-En-Aarde Valley, Walker Bay. (Nr 74941, Lively Wines, BS). 369 kr
Crystallum Mabalel Pinot Noir 2018, Crystallum Wines, Overberg, Cape South Coast, Sydafrika (Nr 95187, Quaffable Wines Sweden AB). 349 kr
Kershaw Clonal Selection Elgin Syrah 2014, Richard Kershaw Wines, Western Cape (Nr 95761, JPC Wines AB). 369 kr
Family Vineyards Granum 2015, Newton Johnson, Hemel-en-Aarde (Vingruppen, RS). 229 kr
Elpidios 2015, David & Nadia, Swartland (Nr 79032, Quaffable Wines, snart Vingruppen, BS). 339 kr
Bästa rött: Kershaw Clonal Selection Elgin Syrah 2014
Sämsta rött: delad plats mellan Storm Ignis Pinot Noir 2015 och Crystallum Mabalel Pinot Noir 2018